Sophia Antipolis, our campus
The  first technology park in Europe
Sophia Antipolis, our campus, is the largest technology park in Europe. It welcomes around 5,000 students and 4,000 researchers of more than 60 nationalities. 2,000 companies are based here. And a third of its surface area is reserved for green spaces and forests.
It is in this exceptional setting that CEMEF is located.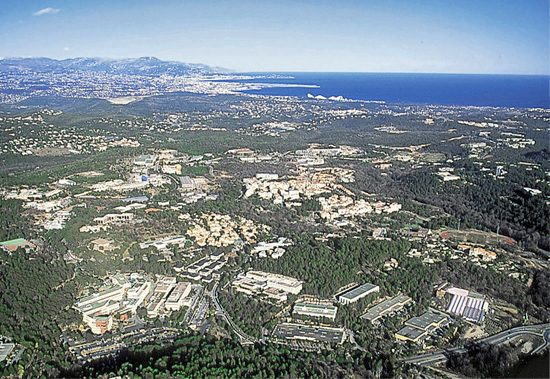 Sophia Antipolis, a site out of the ordinary.
Sophia Antipolis is actually located between Antibes, Cannes and Grasse, 25 km from Nice on the Côte d'Azur. A privileged location between the sea and the mountains, it extends over 2,400 hectares in the heart of a forest of pines and oaks. Sophia Antipolis has indeed an incomparable natural and sports area.
Created in 1969, the technology park brings together major groups and start-ups, research centers and training organizations. It is also a world reference in terms of innovation. Information and communication technologies, science, energy and sustainable development are at the heart of Sophia Antipolis' expertise.
Its creator and designer is Pierre Laffitte. As Director of MINES ParisTech at the time, he had this vision which he transformed into a desire to create a new kind of workplace: "a Sorbonne University Quarter in the fields whose success would be based on professional exchange and scientific research, promoted by cultural exchange in a natural environment". (Cf. Wikipedia source).
When the technopole finally saw the light of day, it was naturally that he decided to relocate some of MINES ParisTech's research centers to this new campus. At that point, Sophia Antipolis is a space where everything has to be created. So CEMEF left Paris, where it was cramped, and moved into this very young technology park. It moved there in 1976 and was one of the pioneers of the site.
Our campus
CEMEF has all its offices, experimental laboratories and cluster on the MINES ParisTech campus in Sophia Antipolis, named Pierre Laffitte Campus in his memory.
We benefit from the school's facilities with classrooms, amphitheaters, videoconferencing, Wifi and library as well as the associated logistics (maintenance teams, IT, security). At the same time, a local association of doctoral students runs our campus. Thus, it offers cultural and sports activities on the site as well as group outings.